[ad_1]

Here's some great news for fans of author Amish Tripathi! The best-selling Indian author took to social media today to reveal that his popular Shiva trilogy will now be adapted for screen.
Roy Price- Head of International Art Machine, has joined hands with filmmaker Shekhar Kapur and writer-director Suparn S Varma for the screen adaptation of Tripathi's 'Shiva Trilogy' series. Shekhar Kapur will helm the project with writer-director Suparn S Varma, who will work as the director and showrunner.
Sharing the news that Shiva Trilogy will be adapted and brought to OTT platform, Tripathi tweeted: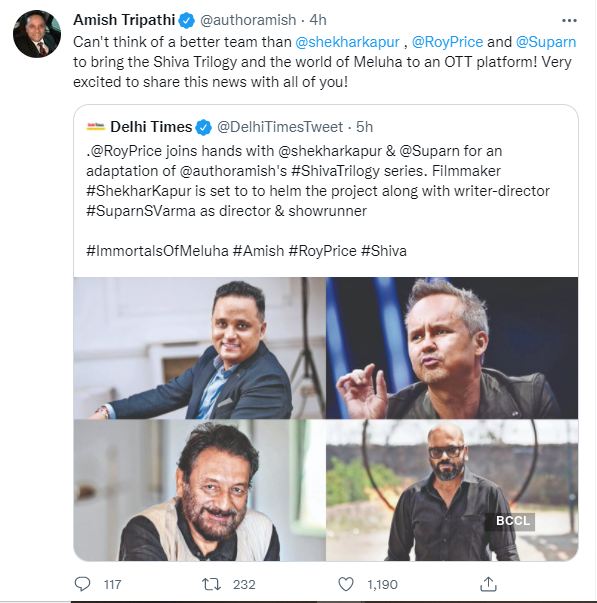 'Speaking about helming the series, Kapur said, "Amish's Shiva Trilogy has been India's great publishing sensation, crossing every age and class. It's not just mythology, it's modern storytelling at its best, lending itself to a beautiful international series." Talking about the popularity of the trilogy, Suparn Varma added, "It is a series of genre-defining books. I just loved the re-imagining and the world-building involving two of my favorite gods!,"' reads a report by India Today.
Meanwhile, Tripathi is currently the Director at The Nehru Centre, London. He is the author of nine books including the Shiva Trilogy, the Ram Chandra Series (3 of 5 published), 'Immortal India', and 'Legend of Suheldev'.
READ MORE: 10 powerful women authors you must read
[ad_2]

Source link